Transfer Admissions Counseling
College is a demanding endeavor, and knowing that the school you're at isn't right for you can leave you feeling trapped and overwhelmed. Don't worry though, there is a better way. You can transfer to a new college; finding a new academic home and getting a new lease on your education.Ivy Scholars can help.
The first step is knowing that you need a change; the second is determining what exactly you need. Our transfer admissions coaching follows our comprehensive admissions process:
We start by determining why your current program doesn't work for you, and what you really need to succeed in college. We help you build a list of colleges that will fully serve your educational and social needs.
Next, we help you fill out the transfer application, and give you advice on crafting the perfect resume to apply with. Transfer apps are different from how you applied to undergrad, and we guide you through the pitfalls that trip up the unwary. We also help you identify the perfect professors to ask for letters of recommendation.Finally, we help you organize your applications, as far more universities use individual portals for transfer admissions. Our application tracker will keep you on top of the process, and make sure you don't miss any important deadlines.
In this phase, we help you craft your transfer essays. This serves a similar purpose to the personal statement, but needs to be individually tailored to each school you apply to. We'll help you tell your story, and demonstrate to these schools that you're a great fit for them.
Next, we tackle the supplemental essays. Not every school asks for these, but just as with undergraduate applications, many do. We'll use our cross-application process to turn a mountain of work into a straightforward task, making sure your application process is as painless as possible.
In phase 5, we fill in the cracks which often arise around applying. We'll help you apply (or in this case reapply) for financial aid, discuss how to perform college interviews, and give you tips on succeeding in your new collegiate environment.
Interested in hearing how we can help you? Schedule a free consultation today!
We've helped transfer students get into a number of top universities. Here's a case study of one of our transfer students:

Sam
Sam was attending a great liberal arts college, but wasn't able to get the kind of practical and analytic business education he desired. He knew he needed to transfer to a school with the support and resources necessary to properly further his goals. He got in touch with Ivy Scholars to help make his dreams a reality. 
Sam had a great background in business, but also had a strong interest in and talent for philosophy. We helped him craft stellar essays describing his philosophical views, and how they helped shape his outlook and his approach to his studies. This showed a deeper and more analytic side of his personality, and showed off his intellectual vitality, and how he could contribute to the academic climate on campus.
We further helped him tailor his applications to fit each school he applied to, covering the nuances and benefits of each business program, and how the resources it offered would support his grander goals. He worked one on one with a mentor to tell his story, and our editor made sure each essay was perfectly polished in message and language. 
Once he was admitted, we helped him appeal his financial aid decisions, to make sure he got the support he needed when attending college. We were happy to help him and his way, and glad to report he got into Dartmouth, and is well positioned to pursue his business aspirations.
The Ivy Scholars Competitive Advantage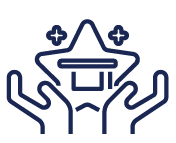 Our results speak for themselves.

Last year, our personalized approach, attention to detail, and college admissions expertise led our students to be
more likely to get into their top-choice school.
Ivy Scholars college coaching will help