College
Candidate Building
Prepare Yourself for College Admissions
Contrary to popular belief, admissions committees want specialists, not well rounded students. The days where a high GPA and exceptional test scores guaranteed admission at a top university have passed. Academia is not enough to get into America's top universities. Over 75% of applicants to MIT are academically qualified, yet only 5% are admitted. What sets them apart? Extracurricular achievement. 
We help students become the kind of candidates their target colleges want to accept: the eponymous "Ivy Scholars."  We promote scholarship, accomplishment, introspection, conviviality, and the host of other traits needed to gain entry to and succeed at a great university. More concretely, we help students understand themselves through an exhaustive counseling process covering their own personal strengths, the kind of change they want to make in the world, and the kind of education they're seeking from their college experience. Then, we review admissions strategy. Once we've helped students understand all that, we help them carry out unique, innovative projects, research, or initiatives to demonstrate their desire to change the world for the better, and their potential to become a future leader in their field. We provide organization-oriented project management, growth-oriented mentorship, and achievement-oriented coaching.
Ivy Scholars has done the homework necessary to strike an amazing balance between promoting holistic growth through introspection, and ensuring students develop the executive functioning skills necessary to get complicated, ambiguous tasks organized and completed.
Our process builds candidacy over four stages, detailed below. Each student is assigned to a mentor who will guide them through their journey. Our mentors have attended schools such as Harvard, Columbia, Oxford, and Johns Hopkins. We know what top colleges are looking for in applicants, and how to coach our students to success.
We start by learning who your student is. We use assessments to determine their strengths, discuss their passions, and get to know them as people. By learning who they are now, we learn how we can build them up, and where their passions lie.
Next, we help your student develop their hard and soft skills. From time management, to public speaking, to writing, to the mechanics of studying, we shore up the areas where our student is less developed, tailoring our program to the needs of each student.
In phase three, we help your student take their extracurricular activities to the next level. Our goal is to help students move from typical high school extracurriculars – National Honor Society, Debate, or Science Bowl, for example – into extraordinary arenas to demonstrate their exceptional skills. Our students launch collaborative projects for publication, intern at NGOs, participate in academic research – whatever it takes to provide amazing evidence of their passion for learning.
In phase four, we help students explore their potential for leadership and dedication to community service. We guide students through taking initiative on an issue they find personally significant, to show universities that your child is capable of creating social change on a local level. Our students frequently partner with regional nonprofits to extend the reach of their initiatives and enhance their candidacy. Students finish candidacy with amazing activities that convey their intellectual promise, leadership skills, and sense of civic responsibility. In our College Application program, these activities become the foundation of standout essays that lead Ivy Scholars students to acceptance at their dream school.

Our Candidacy Building program works to make students more attractive to top tier universities by giving them tangible accomplishments through their extracurriculars. Top tier schools have limitless options for academically successful students, so extracurricular accomplishments are required to make an applicant stand out. We help build the story of a student, so when admissions officers read it, they can clearly see how going to their college is the next logical step in their story.
Ivy Scholars' Candidacy Building program is designed to help your child become the best version of themselves; to build upon their strengths and passions, and to showcase how amazing they are for admissions officers. Your student will work with their mentor to develop their skills, and will grow as a scholar and person.
To understand our practical results:
One of our 2018 applicants wrote a Facebook API that connected private watercraft owners from Katy to League City with flooded-out victims of Hurricane Katrina. That student coordinated the arrival of private watercraft to transport nearly 100 people to safety. Their subsequent acceptance to Vanderbilt was well-earned. This student already knew they wanted to enter the field of computer science, but working with us helped them find what they wanted to do in that field. 
A 2019 student did medical research at Rice, then talked to his professor's colleagues at Harvard, built a relationship, flew up to meet them, and moved to Boston for 3 months in the summer between his junior and senior year to continue his research at Harvard's laboratory – the best of its kind in the world. He's now at the Rice-Baylor BS/MD program, which accepted less than 1% of applicants that year. On a personal note, I'm incredibly proud of how much his professional communication skills developed.
Nika Filippov, one of my all-time favorite students, did an absolutely astounding job evoking the best talent from a team of strangers in one of her engineering competitions. You can read her Personal Statement here. Her GPA and SAT were below-average for Columbia, but they snapped her up in the first round of admissions anyway. I like to think that our mentorship helped her make the best out of her social and intellectual potential.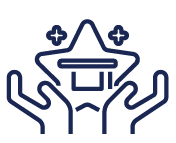 The Ivy Scholars Competitive Advantage
Our results speak for themselves.

Last year, our personalized approach, attention to detail, and college admissions expertise led our students to be
more likely to get into their top-choice school.
Ivy Scholars college coaching will help
transform your application today
Before coming to Ivy Scholars pro bono program, I was overwhelmed with how many aspects of college admissions I needed to consider and perform well in. I was particularly worried about how I would have to go through the process during the COVID-19 pandemic since it was unprecedented, and I was unable to take the SAT or ACT. I'd accomplished a lot, but I felt like my application wouldn't be enough compared to others. For my community service and leadership, I'd been active in my school's Key Club, actively participating in almost all community service events and meetings, which led to me being elected President of Key Club in 11th grade. I also spent five years working my way up in my town's Youth Advisory Committee, a program involving students in local government. Starting as a Secretary, I became a Vice President and then a President, leading all meetings, organizing projects, and keeping in contact with city officials to pursue our goals. To prepare for pre-med, I interned at a local doctor's office for 100 hours in 2019 for two months in the summer. I set appointments, took vitals from patients, shadowed the doctor, and helped organize patient charts with the CMAs in the office. I also worked on my communication skills by founding my school's speech and debate team, and serving as president. We attended several competitions and I won second and third place in some of the Lincoln-Douglas debate competitions. All this sounds great, right? Well, describing my accomplishments was one thing, but writing college essays was another. I'd tried a few drafts on my own, but I could see they weren't what they needed to be. I was terrified that all my hard work wouldn't be recognized because my storytelling fell flat. Since I had been there for all of the events in my writing, it was difficult for me to see the places in which context and necessary information for new readers may have been left out. My Ivy Scholars mentors helped me recognize those areas and develop my writing so it was ready for admissions readers to review. I worked mainly with Mr. Cruz. His essay review was the most impactful aspect of my college admissions process. Since essays are what make you stand apart from other applicants, I considered them to be the central part of my applications and appreciated his insight from an outside perspective that made my voice come through more clearly. It was interesting to gain another perspective on my essays and application and to see what context I was leaving out in my writing. I'm glad I reached out for help. I'm immensely grateful for Ivy Scholars for offering me free assistance. I am currently attending UC San Diego as a Neurobiology major. While UCLA was my first choice, UC San Diego was my second choice. When I got my acceptance, I was very excited since UC San Diego had been one of my top choices for a long time. I called my mom at work immediately and then we had a celebratory family dinner that night. Mr. Chada, Mr. Cruz, thank you for making that possible.
Before meeting Sasha and the Ivy Scholars team, I was frightened by the college admissions process. Admissions nowadays are ever-so competitive, and I was worried I may not be able to stand out amongst the thousands of applications from around the world. I'll be honest and share that I was not the most academically structured or organized, not knowing all that I was supposed to do to make my college application make me stand out as a candidate for America's top-tier universities. I was struggling to get a desirable score on my standardized tests, and couldn't seem to get an effective test-taking strategy to boost my scores to the top. I worked with Sasha personally on creating the effective strategies needed to consistently score 1400+ on SAT practice exams. Sasha showed me the path to confidence not only in my test-taking experience, but also as he helped me build my resume to include activities I would not have dreamt of before our working together. Sasha inspired me to think outside the box and use what resources I had in front of me to create something new and intriguing not only to impress colleges, but to help me find my sense of worth in a world similarly competitive with challenging philosophies on how to find a meaningful life. Now an entrepreneur with a successful online business, I credit Sasha's guiding hand in helping me find my path in this crazy busy world we live in. After receiving unbelievable scholarships from various top-producing institutions across the country, I ultimately decided to attend Texas Christian University, for their small class sizes and close proximity to home. As a computer science major, I have close connections with all of my professors, using some of the relationship building techniques Sasha taught me in our many interpersonal sessions together. Sasha's guiding wisdom and discernment on my life as he listened to my challenges made all the difference. It is for these reasons I can confidently recommend Sasha and the entire Ivy Scholars team as the premier test prep, candidate building, and admissions coaching company. Through Ivy Scholars I have met some long-term mentors, like Sasha, who I will continue to hold dearly even though it's been years since our program together has ended.
Before I reached out to Ivy Scholars, I was absolutely nervous and afraid of the whole College admissions process. I truthfully did not know where to start, and or how well I would present myself to the admissions committees. As a current student, I would definitely describe my strengths as a motivated and encouraged learner, however, definitely not the most refined student there is. I tend to succeed in test settings as opposed to having to write essays that count towards academic progress. Working with Ivy Scholars helped me fine tune my writing skills and allowed me to present myself as best as I could. Having worked with them for several weeks, I was able to craft my work into something that stood out to the Admissions Committees. As a result, I was admitted into my dream school and given the opportunity of a lifetime. Throughout my childhood, Harvard College was seen as nearly impossible to be accepted to, however, through hard work and perseverance, this dream become reality. This was not done alone. Thanks to Ivy Scholars, I was able to be seen as individual who was unique and stood out from the rest, and am forever grateful for the work that was invested in me from this fine company. If you are struggling with College Admissions and where to start, look no further. You will have no regrets when choosing Ivy Scholars and be able to turn your dreams into reality.
A big thank you to Sasha and his team (Charly, Mateo and others) at Ivy Scholars who were helpful in preparing my daughter for her college admissions. She got admitted to the school of her choice. My daughter's junior year when she started thinking about colleges we were skeptical about any outside help. Nevertheless we met Sasha and he was extremely helpful and detailed in laying out the process involved in getting prepared for college admissions. I was impressed by his thoroughness, thoughtfulness and insights. Over the time that my daughter has worked with Ivy Scholars, I have noticed that they follow a structured rigorous process, be it helping the student articulate their own strengths/interests, to helping them with standardized tests and other aspects of polishing themselves, allowing the student to put their best foot forward for the college admission officers. Thank you Ivy Scholars.
Ayush Krishnamoorti
2020-08-14
Ivy Scholars was instrumental in helping me understand more about myself, and improving my ability to describe myself to a new person. While the workload featured many hours of development, coming back to the drawing board a couple times, and slowly finishing every college supplemental, Ivy Scholars was great at navigating the process for a family that was applying to US colleges for the first time. I would extend my recommendation to anyone who needs help with the writing process as well, as I was able to make my essays captivating and they are testaments of my accomplishments thus far. I am glad to be reaping the results of such a process, getting my first-choice school, and that is thanks to Mateo and Sasha.
Quazi Rahman Shomu
2020-08-11
It's a true pleasure for me to write about Ivy Scholars who helped my son get into some top-tier universities. After early admission failure in mid-December, Faizan was scared and we contacted Sasha to ask for his help with personal essays. He had only two weeks to apply without much preparation. Sasha and his staff immediately jumped in to help Faizan. Charlie, Mateo and Nick were all phenomenal to work with Faizan to make sure every parts of the essays were taken of. What makes IvyScholars better than others is their layered approach of supporting and reviewing process by multiple staff members. Every essay that Faizan composed was revised and edited by ALL of them. That helped him to get different perspectives and and come up with amazing set up write ups. Faizan got his admission to Stanford, Rice and UT to name a few. A big shout out to Charlie especially, who challenged Faizan with many thought provoking ideas till the final day of his applications. I highly recommend ambitious kids to call Sasha if they dream about great schools. Good luck Sasha and team!
This process - from the day I first met with Ivy scholars in 10th grade to reminiscing with my mentors today as I graduate high school - has been a whirlwind of progress and self realization. I knew nothing about the college application process before starting with Ivy Scholars and never dreamed I would be accepted to an Ivy. I was a good student with all As and participated in a few extracurricular activities, but I lacked vision for my future and the doubted my abilities nonetheless. Two years after starting with Ivy Scholars, I got into my #1 dream school (Columbia University) and developed a new set of skills, including self confidence, great time management and organization, and an open mind to the world's opportunities. Ivy Scholars has taught me more about myself than I ever expected and through the process I have made valuable connections with my mentors, whom I now consider my friends. Thank you all so much for this experience, team. You guys rock 😊
We have worked with Ivy Scholars to develop a plan for our daughter's college admission. Sasha and his team worked with her on SAT/ACT prep, SAT subject tests, and college admissions essays. In addition to college preparation, Sasha was instrumental in helping her adjust to transfer to a new school mid junior year. Sasha's dedication to our daughter's goals, positive encouragement, deep knowledge of the college testing and admissions process, and experience in working closely with children and families, all greatly contributed to her admission into an Ivy League university. Charly and Mateo are also incredible coaches who know how to relate to young people much better than any school counselor or college advisor I've ever met. It has been a real pleasure working with them. We are now starting to work with Ivy Scholars again to help develop a plan for our son's high school education and ultimate college major. We highly recommend the Ivy Scholars to anyone who has a child in High School who is planning on applying to college. Sasha and his team are very easy to talk to, know how to approach children and young adults and understand complicated family dynamics. Every member of Ivy Scholars is a talented and outstanding individual who is not only a pleasure to work with but is also a privilege to know.
Gauthami Moorkanat
2020-07-01
I can't thank Sasha and Mateo enough for their advice and assistance throughout the entire college application process. When I first began working with Sasha, I was like any other student: stressed and confused. I had no idea how to approach college applications, as no one in my family had gone through this process. Through numerous phone calls and emails, Sasha demystified college admissions, by explaining to me what colleges were looking for, and he helped me create study plans for standardized tests. He truly listened to my interests and aspirations and encouraged me to find opportunities to pursue them and solidify my extracurricular activities. He helped me discover who I was as a student. When the time came to select colleges, he helped me find schools that were a good fit for me. He created a massive list of reach, target, and safety schools, highlighting each one's academic programs and clubs that aligned with my interests. At the end of my junior year, I began working with Mateo on my Common app and early decision essays. I was so scared that I wouldn't be able to find anything interesting to write about. He spent multiple sessions interviewing me, doing brainstorming sessions, and just talking to me about literature, culture, and other topics, to help me recognize the unique aspect of my identity that I had never even considered before. He pushed me to become a better writer, giving me honest feedback on each of my drafts, and taught me to be introspective in my writing. With Sasha and Mateo's guidance, I was able to craft a compelling application that told a unique story about me. I gained admission into my top schools (UPenn, Cornell, and UCLA), and I was able to grow as a student and writer. Their sincerity, unique insight, and genuine care for their students really sets them apart, and I would highly recommend them for anyone who wants to be prepared for college admissions.