College
Candidate Building
Prepare Yourself for College Admissions
Contrary to popular belief, admissions committees want specialists, not well rounded students. The days where a high GPA and exceptional test scores guaranteed admission at a top university have passed. Academia is not enough to get into America's top universities. Over 75% of applicants to MIT are academically qualified, yet only 5% are admitted. What sets them apart? Extracurricular achievement. 
We help students become the kind of candidates their target colleges want to accept: the eponymous "Ivy Scholars."  We promote scholarship, accomplishment, introspection, conviviality, and the host of other traits needed to gain entry to and succeed at a great university. More concretely, we help students understand themselves through an exhaustive counseling process covering their own personal strengths, the kind of change they want to make in the world, and the kind of education they're seeking from their college experience. Then, we review admissions strategy. Once we've helped students understand all that, we help them carry out unique, innovative projects, research, or initiatives to demonstrate their desire to change the world for the better, and their potential to become a future leader in their field. We provide organization-oriented project management, growth-oriented mentorship, and achievement-oriented coaching.
Ivy Scholars has done the homework necessary to strike an amazing balance between promoting holistic growth through introspection, and ensuring students develop the executive functioning skills necessary to get complicated, ambiguous tasks organized and completed.
Our process builds candidacy over four stages, detailed below. Each student is assigned to a mentor who will guide them through their journey. Our mentors have attended schools such as Harvard, Columbia, Oxford, and Johns Hopkins. We know what top colleges are looking for in applicants, and how to coach our students to success.
We start by learning who your student is. We use assessments to determine their strengths, discuss their passions, and get to know them as people. By learning who they are now, we learn how we can build them up, and where their passions lie.
Next, we help your student develop their hard and soft skills. From time management, to public speaking, to writing, to the mechanics of studying, we shore up the areas where our student is less developed, tailoring our program to the needs of each student.
In phase three, we help your student take their extracurricular activities to the next level. Our goal is to help students move from typical high school extracurriculars – National Honor Society, Debate, or Science Bowl, for example – into extraordinary arenas to demonstrate their exceptional skills. Our students launch collaborative projects for publication, intern at NGOs, participate in academic research – whatever it takes to provide amazing evidence of their passion for learning.
In phase four, we help students explore their potential for leadership and dedication to community service. We guide students through taking initiative on an issue they find personally significant, to show universities that your child is capable of creating social change on a local level. Our students frequently partner with regional nonprofits to extend the reach of their initiatives and enhance their candidacy. Students finish candidacy with amazing activities that convey their intellectual promise, leadership skills, and sense of civic responsibility. In our College Application program, these activities become the foundation of standout essays that lead Ivy Scholars students to acceptance at their dream school.

Our Candidacy Building program works to make students more attractive to top tier universities by giving them tangible accomplishments through their extracurriculars. Top tier schools have limitless options for academically successful students, so extracurricular accomplishments are required to make an applicant stand out. We help build the story of a student, so when admissions officers read it, they can clearly see how going to their college is the next logical step in their story.
Ivy Scholars' Candidacy Building program is designed to help your child become the best version of themselves; to build upon their strengths and passions, and to showcase how amazing they are for admissions officers. Your student will work with their mentor to develop their skills, and will grow as a scholar and person.
To understand our practical results:
One of our 2018 applicants wrote a Facebook API that connected private watercraft owners from Katy to League City with flooded-out victims of Hurricane Katrina. That student coordinated the arrival of private watercraft to transport nearly 100 people to safety. Their subsequent acceptance to Vanderbilt was well-earned. This student already knew they wanted to enter the field of computer science, but working with us helped them find what they wanted to do in that field. 
A 2019 student did medical research at Rice, then talked to his professor's colleagues at Harvard, built a relationship, flew up to meet them, and moved to Boston for 3 months in the summer between his junior and senior year to continue his research at Harvard's laboratory – the best of its kind in the world. He's now at the Rice-Baylor BS/MD program, which accepted less than 1% of applicants that year. On a personal note, I'm incredibly proud of how much his professional communication skills developed.
Nika Filippov, one of my all-time favorite students, did an absolutely astounding job evoking the best talent from a team of strangers in one of her engineering competitions. You can read her Personal Statement here. Her GPA and SAT were below-average for Columbia, but they snapped her up in the first round of admissions anyway. I like to think that our mentorship helped her make the best out of her social and intellectual potential.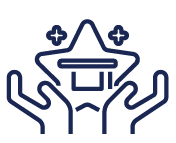 The Ivy Scholars Competitive Advantage
Our results speak for themselves.

Last year, our personalized approach, attention to detail, and college admissions expertise led our students to be
more likely to get into their top-choice school.
Ivy Scholars college coaching will help
transform your application today