College Application Coaching
College applications are too consequential to not be perfect. Even the smallest error can weaken the whole, shattering an otherwise flawless application. Ivy Scholars College Admissions Consulting will empower you to take control of your student's future. Here's how we do it.

Ivy Scholars has developed a five phase approach to crafting college applications, based on our success with over 300 students. This curriculum has delivered exceptional results: on average, our students are 3x more likely to be admitted into their top schools. Our process begins with your
free consultation.
After signing up with us, your student will be paired with one of our mentors , based on their needs and learning style. Our mentors have been educated at the world's top universities, including Harvard, Columbia, Oxford, Johns Hopkins, and Rice University. They know what it takes to get into the most selective institutions, and they'll give you the tools to get there.
College Application Fundamentals
Our first step in crafting an exceptional college application is understanding what admissions officers are looking for. Before beginning any writing, your student and their mentor will spend two hours understanding what happens behind the scenes in admissions offices. Next, they will compose their college list based on each student's needs and abilities.
Most colleges weigh 25% of their admissions decision on a student's extracurricular involvement and character. The goal of phase 2 is to leverage your student's unique stories and interests to craft an activities and honors list that highlights their achievements and ambitions. 
Writing your Personal Statement
Over 70% of the applicants to MIT are academically qualified, yet they're rejected. Why? They write mediocre essays about trite, non descriptive topics; discussing sports leadership, band struggles, or treacly volunteering with formulas admissions officers have seen a thousand times. During phase 3, your student will craft a compelling and memorable personal statement that sets them apart from the sea of applications.
Admissions offices use supplemental essays to determine whether students align with the values, mission, and vision of their institution. Sadly, this means many qualified students are weeded out. At Ivy Scholars, we know exactly what each school is looking for. Stanford, for example, wants to see students learning for the sake of learning. In Phase 4, we use our knowledge of what schools want to help students demonstrate how they will fit with each institution using their supplemental essays.
Submitting college applications is just the beginning. After submission, we'll help your family apply for financial aid, guide your student through their course selection, and make sure your student is ready to ace their admissions interview. Finally, we'll take your student through our final lesson: How to College*.
*Laundry lessons not included.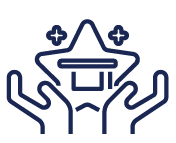 The Ivy Scholars Competitive Advantage
Our results speak for themselves.

Last year, our personalized approach, attention to detail, and college admissions expertise led our students to be
more likely to get into their top-choice school.
Ivy Scholars college coaching will help
transform your application today